The PEAL Center is a lifeline…
…for so many families raising children with disabilities and special health care needs. Please consider a tax-deductible gift to support the work of the PEAL Center.
The PEAL Center is a non-profit 501c 3 organization that serves families of children with disabilities and special health care needs. We provide information and training on education and healthcare needs along with support services.
PEAL provides all of our services to parents and families at no charge. To continue our work to help individuals with disabilities and all those who support them, we welcome financial contributions.
Your donation is tax-deductible.
PayPal: Your donation
Use your credit card or pay pal to set up a one time or re-occurring donation.
Or, mail your donation to:
PEAL Center
2325 E Carson Street, Suite 100-A
Pittsburgh, PA 15203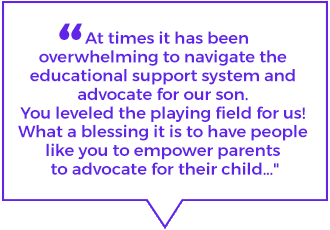 Imagine Different Coalition
One of the projects under the PEAL Center umbrella is the Imagine Different Coalition. The Coalition is a group of parents, advocates, professionals, and allies from across the state that shares a common concern about the number of children with disabilities growing up in congregate care.  For the past 6 years, the Coalition has worked towards a Commonwealth that proudly assures that each and every child grows up in a family home where they are loved and nurtured. Great strides have been made directly from the work of the Coalition. Unfortunately, the funding for the Imagine Different Coalition was not renewed by the Foundation that has supported this work over the past 4 years.
Visit the GoFundMe to directly support this important work!
Our Favorite Part about Working for PEAL
Why You Should Support PEAL
Who We've Helped:
Three sons. One husband. All diagnosed with Asperger's Syndrome (Autism) at the same time.
In 2004, Sharleen Johnson's life was forever changed by these diagnoses. She didn't know it then, but she was in for a long road to obtain appropriate support for her boys – and have them included in school.
"I felt like I was in a constant battle with time, trying to ensure my sons would have every chance at being included in school and transitioning into adulthood."
Over time, the stress began to take its toll on Sharleen. The IEP meetings, the constant worrying, and planning, the lack of appropriate Autism support in her school district. Sharleen was at her wit's end. That's when she ran into a PEAL Parent Advisor.
"I shared my story, and the PEAL advisor immediately gave me her card and invited me to call her anytime. At this point, I felt so parent-battered that I wasn't sure anyone could help me anymore. But with more meetings coming up, I knew I needed help."
The reassurance Sharleen received while talking to a PEAL advisor helped her feel calm and strong. With the help of PEAL, Sharleen was able to obtain additional help and resources that she may have never known about. Knowing she had an advocate in her corner gave her a sense of renewed hope. The PEAL advisor provided Sharleen with guidance, insight and most importantly – friendship.
"The PEAL advisor has stood by me these past few years and made herself available to me as her schedule permits," said Sharleen. "She continues to encourage me, even when things look bleak."
Sharleen's family has made progress, thanks to the help of PEAL. All three of her boys are now included in the classroom, and her oldest just graduated from high school. It hasn't been an easy journey by any means – but it's been rewarding. Little by little, the Johnson family has moved forward. Sharleen credits the help of others, especially PEAL.
"I thank God for the PEAL Center and for everything they do to help families. It is a fight that I have to endure for my children. But thankfully, I'm not alone."