Imagine Different… Achieve Different! Family Life for All Children with Disabilities in Pennsylvania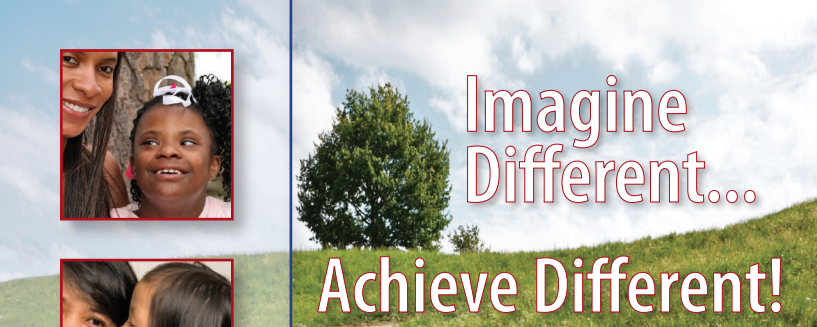 There are hundreds of children and young adults with developmental disabilities in Pennsylvania who are not growing up with families, but instead are living in facilities. Hundreds more are at risk of admission because it is often easier to place a child in a facility than to get families the supports and services they need so their child can grow up at home.
Who we are
The Imagine Different Coalition represents the grass roots effort of a passionate and informed group of parents, individuals with developmental disabilities, advocates, and professionals from across the state that has come together because of a common concern about the number of children with disabilities growing up in congregate care facilities. The coalition emerged out of a grant from the Pennsylvania Developmental Disabilities Council awarded to the PEAL Center in July 2012.
What we believe
We believe that every child should have the opportunity to grow up in a loving family. Facilities cannot meet the most important factor in providing for the welfare of each individual child —the daily experience of love and sense of belonging that families uniquely offer. Our members have deep personal experience with children with disabilities and knowledge about how the system currently works in Pennsylvania. We also know from our research how other states have successfully redirected resources to support individual families and reduced use of facilities. Our goal is to educate others throughout Pennsylvania about what is possible, so that the state's resources and activities can be redirected toward supporting family life now and into the future. In December 2016, we received, with deep gratitude, a grant from the Edith L. Trees Charitable Trust to continue the work of the Imagine Different Coalition.
Our work
We have developed workbooks to guide families, people who help families find support, and system representatives through a process of rethinking decisions to place children in facilities by (1) imagining a different direction – family life for all children with disabilities—and (2) accessing the necessary supports that achieve child well-being and family living. You can download these workbooks at: www.imaginedifferent.org/toolkit. With this foundation, we have begun meeting with state officials to discuss the importance of family life for all children with developmental disabilities. We continue to research and communicate changes that can make this possible. A growing and deepening consensus is evident among key leaders that supporting family life is the right thing to do for children with developmental disabilities. They are open to continuing dialogue with the Imagine Different Coalition and considering our recommendations as they determine how to move forward from general agreement to actualizing changes.
To learn more, please visit our website at www.imaginedifferent.org.
This article originally appeared in PEAL's Winter 2016-2017 Newsletter.