PEAL Center Hosts 6th Annual Inclusion Awards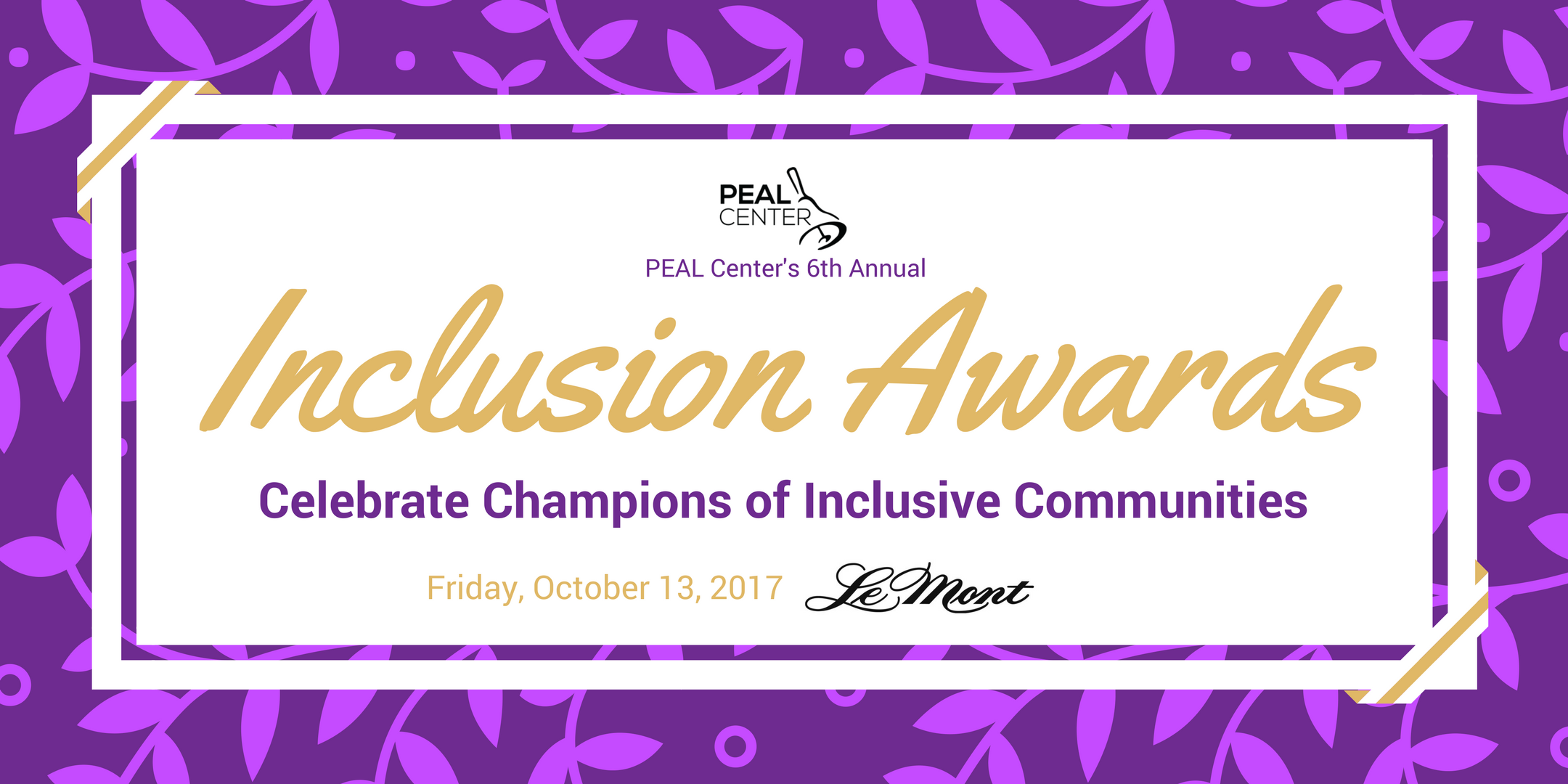 FOR IMMEDIATE RELEASE: September 25, 2017
Grace D'Angelis
PEAL Center
412-281-4404
events@pealcenter.org
PEAL Center Hosts 6th Annual Inclusion Awards
Celebrate Champions of Inclusive Communities in Pennsylvania
Pittsburgh, PA: The Parent Education & Advocacy Leadership (PEAL) Center is hosting our 6th Annual Inclusion Awards Dinner on Friday, October 13, 2017 at LeMont in Pittsburgh, PA. This event is an opportunity to recognize the work of deserving people and organizations who have contributed to building inclusive schools and communities where all children, youth and adults lead rich active, person-centered lives.
The PEAL Inclusion Award Dinner also raises unrestricted funds to ensure that PEAL's advocacy supports are available to all PA families, youth and young adults who desire inclusive lives, with a focus on underserved communities in both urban and rural areas of PA.
Our event co-chairs are Ola Jackson, Founder, OWN: Onyx Woman Network, Debbie and Rick Efkeman, and Kate Efkeman. "My husband, daughter and I appreciate the opportunity to be honorary chairs for such an important event for the PEAL Center. PEAL works so hard to support people with disabilities and their families to be included in schools, medical care, and living in the community. This dinner and ceremony gives a chance to celebrate the good things that our award recipients have done to make this mission a reality," said Debbie Efkeman.
We anticipate more than 150 guests joining us for the event. Chaz Kellem, Senior Director, Advocacy for Race & Gender Equity, YWCA of Greater Pittsburgh, will host as master of ceremonies. We are pleased to announce that this year we are honoring six individuals and organizations:
Dr. Graciela Slesaransky-Poe – Champion of Social Justice
Include Me Initiative, Arc of PA – Champion of Inclusive Education Advocacy
R. Todd McMillen, Greensburg Salem School District – Champion of Inclusive Education
John & Juanita Seely, Empowering Lives Foundation – Champions of Employment
Julius Boatwright, Steel Smiling – Emerging Grassroots Leader
About Parent Education & Advocacy Leadership (PEAL) Center: The mission of the PEAL Center is to educate and empower families to ensure that children, youth and young adults with disabilities and special health care needs lead rich, active lives as full members of their schools and communities. www.pealcenter.org
Purchase tickets to the Inclusion Awards Dinner here.