Sensory Friendly Event with Pittsburgh Symphony Orchestra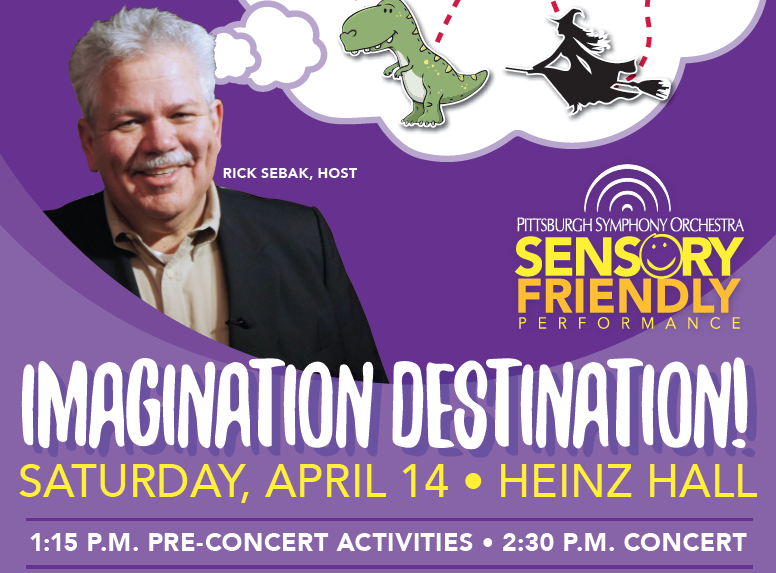 The Pittsburgh Symphony Orchestra presents their fourth annual Sensory Friendly concert entitled "Imagination Destination!" on Saturday, April 14th at 2:30pm in Heinz Hall. This is a family-friendly, welcoming program with creative interactive pre-concert activities produced by our cultural partners. This is an opportunity for families to spend time together and to enjoy a concert with your PSO in a judgement-free zone. They especially invite individuals with sensory sensitivities, those on the autism spectrum, and anyone who wants to freely express themselves to come to Heinz Hall and have fun!
Here is the flyer (below). Use PEAL's discount code for $10 tickets.
From 1:15-2:15pm, pre-concert activities will be held throughout the rooms in the front of Heinz Hall. Cultural partners will facilitate these rooms, including the Pittsburgh Ballet, Andy Warhol Museum, Children's Museum, and a special music and technology activity courtesy of Gil Teixeira with CEEMI. PSO musicians will also be demonstrating their instruments and sharing their music.
Purchase your tickets online at pittsburghsymphony.org or call 412-392-4819.