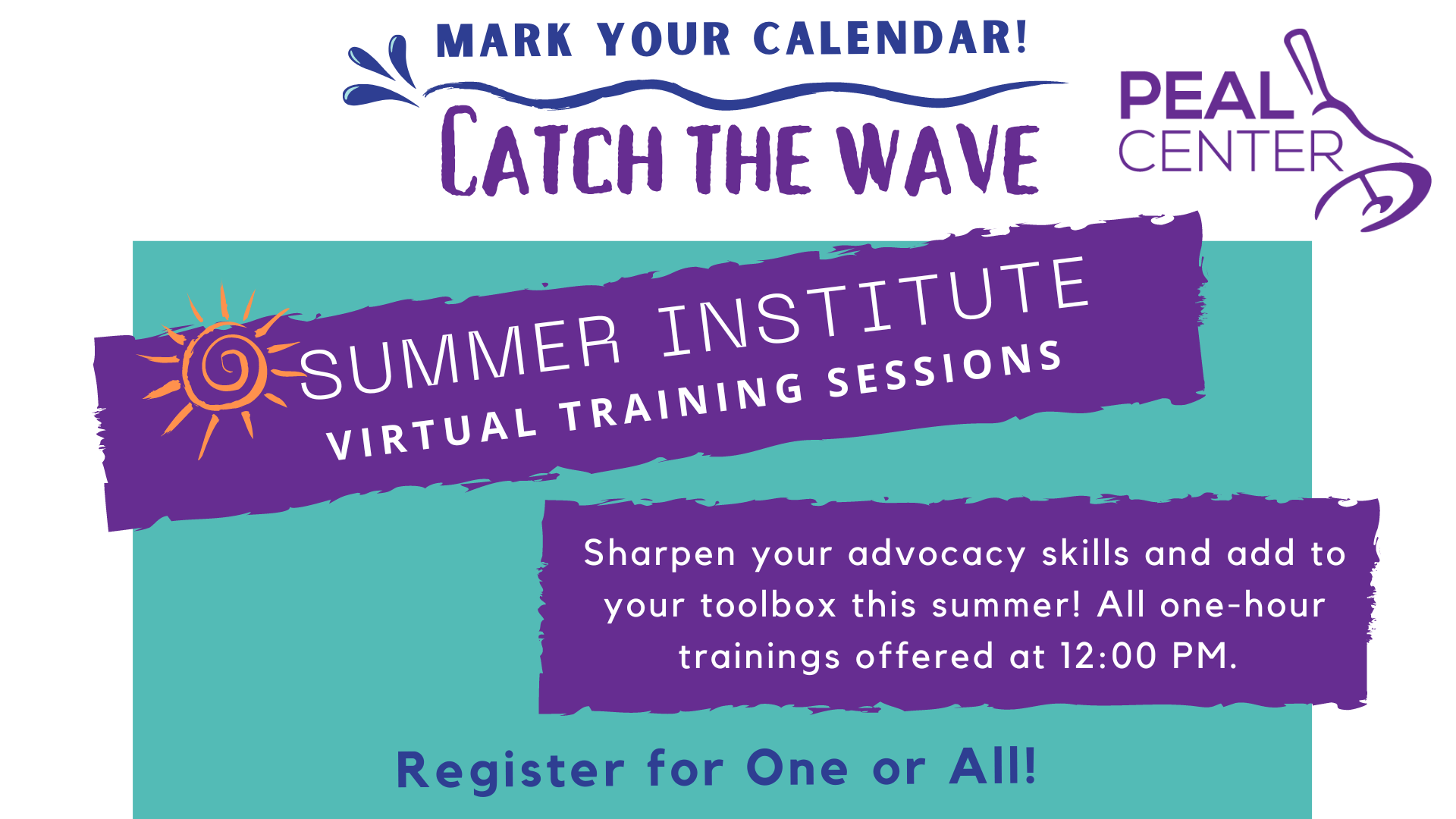 Summer Institute: Virtual Training Sessions
Sharpen your advocacy skills and add to your toolbox this summer! All one-hour trainings offered at 12:00 PM.
Learn more about these trainings below:
IEP: Knowing Your Rights and Procedural Safeguards (Tuesday, July 5th)
Register: https://bit.ly/IEP-KnowYourRights
Have you ever wondered why in your annual IEP meeting, schools hand you a Procedural Safeguards Notice?  Learn about the procedural safeguards available under IDEA to protect the rights of your child and your family throughout the IEP process. Increase your knowledge about dispute resolution processes in place to support your ability to effectively advocate for your child. Find out where to access information about your child's rights in the context of school disciplinary actions when they involve students with disabilities. At the end of the session, you can ask general (not personal!) questions and discuss ideas during a short question/discussion period. 
Section 504 Basics (Friday, July 22nd)
Register: https://bit.ly/SummerInstitute-504Basics
In 1973 the first federal civil rights protection for people with disabilities, Section 504 of the Rehabilitation Act was signed into law.  The section operated on the assumption that instead of trying to fix the person with a disability, we try to fix the environment to accommodate the person's needs and make it more inclusive.  In this one-hour condensed session, discover the purpose of the Section 504 law and processes, and compare the difference between IEP and Section 504 purposes and procedures. Find out how children and youth can become eligible for a Section 504 plan, and about steps families can take to put 504 plans in place when their children need them. You can join in with general (not personal!) questions and discussion at the end of the session.
IEP Essentials (Friday, August 12th)
Register: https://bit.ly/IEPEssentials
Learn the basics about what the federal law created to make sure that all children and youth have access to a free and appropriate education with their typically-developing peers. Discover the essential elements of the IEP process, the IEP Team, and the development and components of the IEP document itself. Finally, join in a short question/discussion session at the end of the presentation. (We ask that you do not share personal details!) 
Making Inclusive Education a Reality (Tuesday, August 16th)
Register: https://bit.ly/MakeInclusionWork
Find out how the federal law was written to make sure that all students are included in the general education classrooms, and extracurricular activities, and the benefits of full inclusion in school and after school across extracurricular activities. Explore the importance of family participation to advocate for your child's access to the general education curriculum.  Learn how best to communicate with school district representatives to get the services you think would best empower your child to succeed! At the end of the session, you will have the opportunity to engage in a short question/discussion period. (We ask that you do not share personal details!)